Our branding, website and social media packages explained
Let's talk about The Branding Box, baby.
If you've been following us for a while, you know that The Branding Box is an extension of The Pencil Box. It's our creative solution for start-ups and small businesses.
Since we've launched The Branding Box offering, it's grown from ready-made logo design and branding kits to include website templates, as well as social media content creation and management packages. Let's get into it.
What is a brand?
According to Seth Godin, "A brand is the set of expectations, memories, stories and relationships that, taken together, account for a consumer's decision to choose one product or service over another." It's the process of giving meaning to a company, products or services. This is done through strategically shaping a brand in the minds of consumers. It's how you make people feel.
What is branding?
It's different to a brand. Branding is the set of actions you take to build your brand. This includes your brand identity and visual communication. Yes, that includes your logo and packaging.
Why is branding important?
We truly believe that branding is the foundation for your business. Not only does it make a memorable impression on consumers, it also communicates what to expect from your brand. It helps you stand out from the crowd, explaining why you're the better choice. It can drive new business and increase sales. Your brand should be a true representation of the value it upholds.
Can we help you achieve this without a big budget?
Yes we can! We have twelve ready-made logo and branding designs for you to choose from. Each of them, carefully created to work across a range of industries. After you've chosen a logo style that works for your brand, choose a package that works for your budget. Click on the image below to see our package details and branding kits.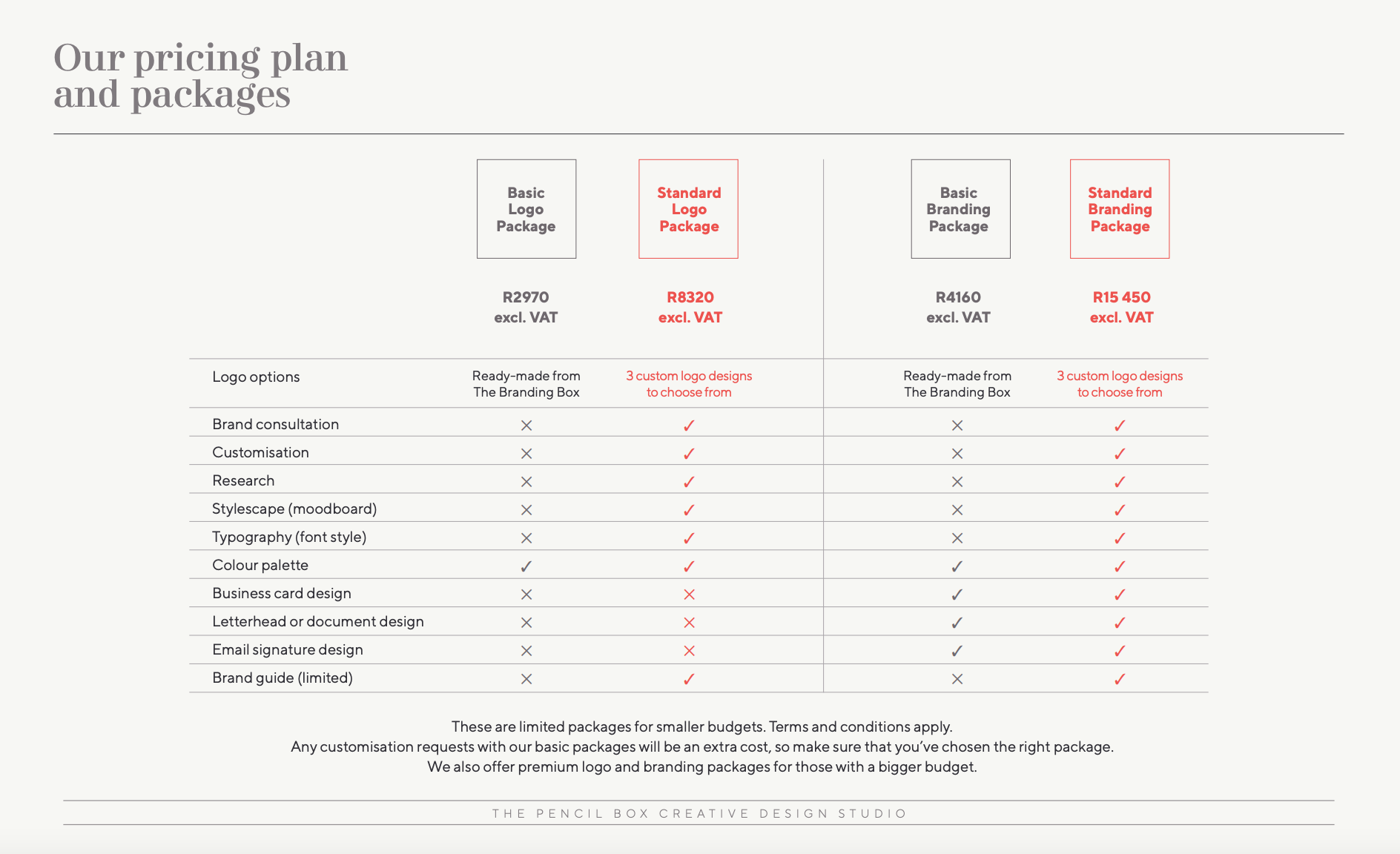 What about websites?
We know that website design and development can be pricey, that's why we've designed website templates for you to choose from. Click on the image below to see our package details and choose your template.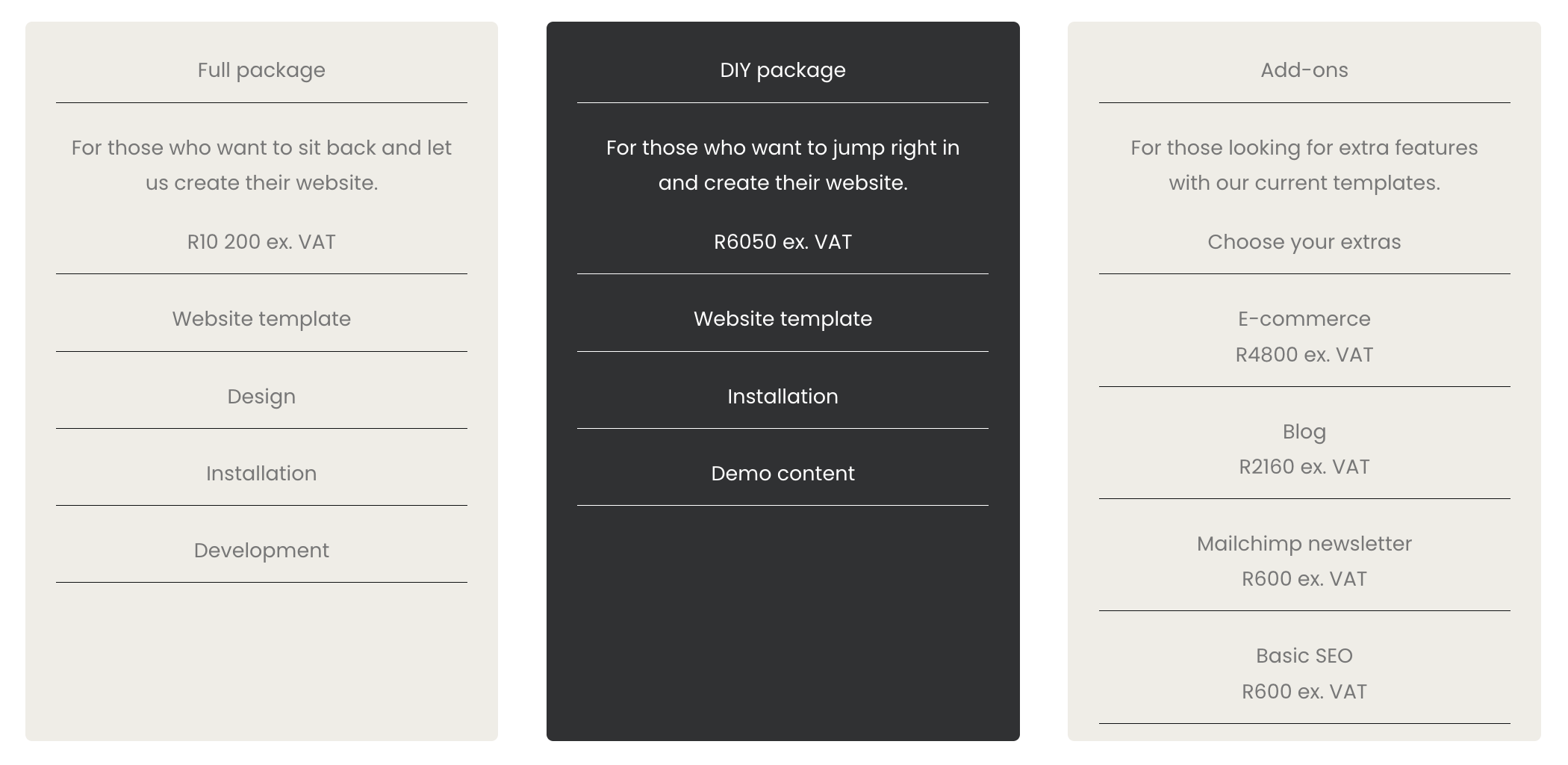 If you're looking to increase your online presence and boost brand awareness, have a look at our monthly social media services. An important part of any marketing strategy, it connects you with your customers as well as an endless list of potential customers. There are billions of people using Instagram, Facebook and TikTok every month.
Do we offer packages for social media?
Yes, we do! We love helping people build their social media communities. The Branding Box is setup for start-ups and small businesses with less than 5 000 followers per account.
Our basic offering starts from R6000 excl. VAT per month, depending on what you need and is great for getting your brand's social media off the ground. You'll need to send us some of your images and information and we'll then supply the posts for you to upload. This package includes:
3 posts a week
Shared content across both Instagram and Facebook
Limited design
Content Creation
Planning
Conceptualization
Stock images
It does not include photography, videography or community management. But we do offer these services as add-ons when needed.
Based on your budget, we can put a package together for you. Our full range of services includes:
5 posts a week
2 story posts a week
4 short videos a month
Shared content across both Instagram and Facebook
Design
Production
Content Creation
Copywriting
Planning
Conceptualization
Stock images
Social media management
Community management
Social media reporting
We can supply the posts, captions and hashtags.
Fill in our social media questionnaire to view our packages and enquire about customisation.
Still have questions? Pop us an email at info@thepencilbox.co.za if you have any other questions and we'll be happy to discuss it with you.