TPB's list of local thinkers, makers and doers to watch
We reached out to our fellow creatives, freelancers, small business owners, entrepreneurs, solopreneurs, mompreneurs, mentors, consultants and other amazing humans. We did this because although we might be far from each other, we are not alone.
In these difficult times, we want to support those around us.
Our list includes:
Pop us an email if you'd like to be added to our list.
Creatives
Fersyndicate works in graphic design, illustration and art. He is strongly influenced by simplicity, street culture and graffiti and has worked with various brands, including Redbull, GQ South Africa and Shelflife.
A freelance illustrator and designer, Megan started drawing before she could walk and has since drawn on everything she could reach. She loves to add magic to her world and others'. 
A twenty-two year old artist, designer and book lover, Tasleema is constantly creating. She describes combining art with what she loves as being her personal trait.
A recent graduate from the Northwest University with an honours degree in graphic design and illustration, Caitlin is a creative soul at heart and often pursues ventures that sets her soul alight. She is passionate about branding, illustration, copywriting, collage and stationery design.
Munier studied 2D animation and visual art. He's done a couple of animation projects, along with great Cape Town-based artists. He also works as a photographer.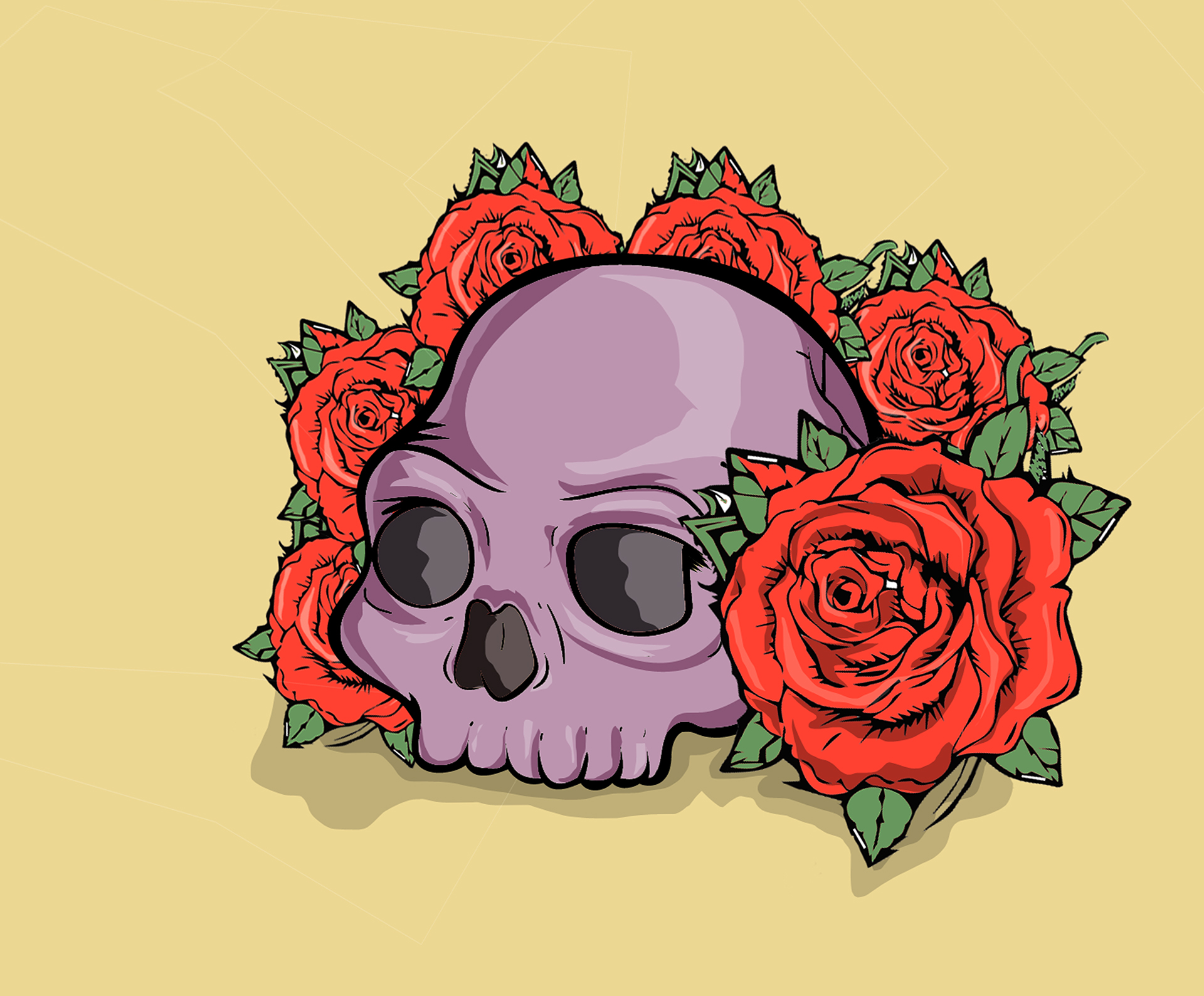 Graphic designer and entrepreneur, Samhita has a love for design, coffee and authenticity. In addition to design, she also works on brand development and bespoke stationery. 
Cape Town based illustrator, Tyla is a freelancer whose work centres around girlhood and education, with a character-driven style that is colourful and engaging.
Theme Piece is a brand design and consulting agency, creating solid brands that convert. Through brand design, leadership and strategy, they are able to help your brand develop.
Amy is a creative web developer with a keen eye for design. Passionate about what she does, she's honest and open throughout the development process and treats her work as a collaboration.
Ulrike is a South African illustrator and designer currently based in London. She works internationally and frequently with clients here in SA. Her style is very adaptable to projects. She enjoys working digitally and traditionally, using bold vibrant colours and incorporating storytelling.
Cait is a freelance graphic designer
Mitchell is a Cape Town-based freelance graphic designer who specializes in high quality logo design and custom lettering. While letters are his passion, he makes an effort to explore all aspects of typography.
The Bloom Creative Agency focuses on creative brand designing and brand styling.
Inspired by nature, Cape Town based Emma Louise is an illustrator and designer. She is open to collaborations as well as commissions.
Founded by Robin Dee Lapperts Hendricks, Pink Lichee House is a growing design company serving people and businesses both locally and internationally.
Freelance graphic designer, Daunya Ma'ani has a love for art, music and design.
Riaz is a Johannesburg-based freelance illustrator that likes to capture that everyday "magicness". His focuses include narrative illustration, branding illustration and graphic design.
Artist and designer, Athi Musoke is posts his unique and interesting work on his Instagram page.
Lisa-Marie is a Cape Town-based digital designer and photographer. She loves developing new brands, websites and interactive designs for her clients.
Self-taught creative artist, Neo mainly works with hand embroidery, rugs and paintings.
Qualified graphic designer, Tarsha has been working creatively for over five years and has a great passion for business and design.
Dominique is a creative with a good eye for art, illustration, graphic design, art direction and front-end web design.
Jo is an art director with 13 years of experience working across editorial and commercial content for internationally recognized magazines.
Photographers & Videographers
When he's not busy creating great content for his own page, Ismaeel is creating content for others. Photographer, videographer and editor, Ismaeel has a unique and fun style.
Using both Nikon and Canon – as well as a GoPro Drone – Nastar is a photographer, videographer and graphic designer. Her work has been featured on various Cape Town Instagram accounts.
Chris McCarthy specializes in video, photography and digital online marketing. He has worked with the likes of Mr Delivery, SPCA and the National Sea Rescue Institute.
From creative ideas to professional execution, the Leman Media team covers production from beginning to end. This includes everything from corporate, to commercial, to weddings.
Christelle is a freelance creative, designer and content creator but specializes in food photography. Just two minutes on her Instagram page will leave you hungry.
Zaid shoots 90% of our content, as well as the content for our clients – including Pretty Little Things, Lifson Products, Olympic International and Webber Wentzel. Need we say more?
It's simple. Calvin is a filmmaker, photographer and storyteller.
This Cape Town based youth inspired duo specialize in fashion and lifestyle. Brothers, Shakeel and Tash Toefy, share similar interests but are two completely different facets, making this brand special.
Achmat is a self-taught photographer as well as a qualified graphic designer working in the magazine industry.
Thaarah Cozyn is a content creator and part-time photographer.
Radiefa Peters is a natural light photographer. She works in lifestyle and fashion but her speciality lies with weddings.
Although a man of many talents, Gesant Abed focuses on portrait photography. Prior to lockdown, he also organized and hosted various photo walks in and around Cape Town.
Formerly a media journalist for eNCA, Faizel Walls is a pre and post brand videographer. He has worked with various influencers, as well as brands like Footgear and iamtrend.
Tashin Singh is a lifestyle, fashion and adventure photographer. He has also dabbled in videography, having completed work for TimesLIVE.
A Cape Town-based media production company, Mad Little Badger believes that amazing images evoke emotions in people that can't always be described, as much as they can be felt. Their sole focus is to produce great still and motion pictures.
Tebogo is a photographer from Soweto, who enjoys shooting events and landscape images. He has recently done work for The Dig, Cotten Fest and Feel Good Series.
Stylists
Taugheedah is a fashion and beauty stylist as well as a writer and curator. She has worked on many editorials for the Edgars Club magazine.
Annelee started her career in magazines and has since worked as a fashion director at both Seventeen Magazine and Cosmopolitan SA. She now freelances as an art director for fashion, kids and lifestyle content.
Emma Wilson is a traveling food stylist who believes that food styling, recipe development, food directing and project conceptualising is an art.
Carin describes herself as a stylist, maker and artist. She has worked with local brands, such as Katmeleon Jewellery and Carrol Boyes.
Bloggers & Influencers
Roshan Isaacs is a modest fashion blogger who aims to inspire and motivate her readers.
Cape Town-based micro influencer, Aaliyah loves modest fashion and skincare. In addition to her work at The Pencil Box, she co-owns a content creation company and models on the side.
Cape Town-based blogger, Bee has a love for travel, fashion and food. Her blog is a space to share her experiences, opinions and favourite things.
Aisha considers herself a digital creator, focused on fashion and food. She even has a separate Instagram page reviewing dishes from all over.
Copywriters
 "I capture life as it captures me," writes Kuda. Follow his Instagram page for more of his work.
Marketing & PR
Branding, and web and content strategy designer, Mark has worked with various local businesses. This includes café, The Bike and Bean, Cuts of Africa and Zapper.
Virtually on Trend is a PR development and management agency. Founder, Sihaam Fakier is a highly experienced PR officer with a passion for entrepreneurship and media.
This South African based marketing agency specializes in creating unique experiences that bring brands to life. Their goal is to empower every business owner to understand and take advantage of the power that internet marketing and social media has to offer.
Founded by Busiswa Lutshaba, a dynamic emerging entrepreneur living and working in Khayelitsha, this agency works on strategy, media, communication, marketing, events and concepts. Busiswa is the first social entrepreneur of the Unboxed Incubator Programme and works with emerging local entrepreneurs.
An emerging private black woman-owned event management, design and marketing agency, Neonhive delivers tailored strategies that elevate and promote meaningful connections. 
Metis is a boutique digital agency specialising in bot marketing and paid media, with a special love for strategy and data analysis. Their approach is built around teamwork and adding value. 
The Content Factory specializes in digital and social media marketing, brand stories and awareness, SME brand development as well as global reach and client base.
This is where thinking is made visual. Creative Genesis specializes in brand styling, digital marketing, graphic design, brand strategy, conceptualization and creative direction.
This team helps your brand stand out in an increasingly cluttered digital world. They specialize in digital marketing, branding, design, social media, content and consulting.
Catering & Events
Pretty Little Things is passionate about beautifully crafted and presented foods – hence the name. All about home-cooked meals, this team aims for delicious and nutritious food while maintaining a personal touch. They're also our favourite caterer for work events.
Owned by Carla Wichman, this events planning company does event styling and co-ordination for intimate functions, larger corporate events, weddings, birthdays and catering. Carla aims to turn your dream into a reality.
Small Businesses
Owned by Zay-yan Fakier, Calming Effex offers healing treatments. Zay-yan specializes in massages and energy healing, as well as life coaching.
Claire du Plooy, who has a passion for design and keeping things local, created this small business in 2014. Her genuine leather bags are designed, sourced and created locally with slow fashion in mind.
Karonn Naidu showcases the very best of Korean skincare and beauty with Your Beauty Box. Relatable and affordable, all products stocked are 100% authentic.
Thaania Enous owns Cape Town-based scarf and nail polish company, Rana Scarves. She started the business as she has always had a great love for scarves made with various materials and textures.
This business produces handmade but modern silicone teething jewellery, pacifier clips and wooden teethers for babies. They are both fashionable and safe.
Ilundi's range of genuine leather bags and accessories are timeless and classic. Minimal geometric lines and quality natural materials result in a range exuding understated luxury and sophistication.
This company is all about luxury, comfort and quality in bedding. Lifson Products specialises in authentic, sustainable and ethically sourced down and feather duvets and pillows and offers down alternatives duvets and pillows too.
Naeemah Seedat produces and sells educational resources for children.
Zahraa Surtee is a qualified registered counsellor, passionate about emotional well-being. She has made it her life's purpose to help people become more consciously aware of who they truly are.
Nia.Studio takes pride in being an all-rounded content creation company, handling everything from concept design to photography, from styling to social media management.
A creative solution brought to you by us! The Branding Box brings you ready-made logo and brand designs at a reduced rate.
Hair by Phan provides Grade 10A and 11A wigs and weaves, as well as crochet locks. Be prepared for an amazing customer experience too. 
From hosting and curating pop-up events, to masterclasses that give local designers the skills they need to transform their passions into flourishing businesses, Homemade Cape Town has made it their mission to help home-grown talent shine.
This company offers a digital leadership program that features digitally focused courses, integrated leadership development, personalised purpose coaching, internships and cultural immersions. 
Sensory intelligence is the understanding of how your seven senses unconsciously respond to the environment to impact how you live, learn and work. With this in mind, Sensory Intelligence offers three key solutions to help you make life easier.
Tasneem is an occupational therapist in special education, as well as the host of podcast, The Daily Hustle.
Founded and owned by Barbara Kasasa, No Memo is a locally-made jewellery company that dares people to be different.
The Skin Studio is a Cape Town aesthetic skin studio where skin is nurtured, tailoring a skincare plan to your needs and skin type.
Aesthetics Lab Cape Town is owned and run by Dr Hildegaardt Raubenheimer, a dynamic medical aesthetics professional who believes that facial rejuvenation is both a science and an art. She is a leading advocate for the "less is more" principle in her field and this is evident in the beautiful results she achieves for her clients.
Inspired by the Olympic Games movement, Olympic International is a locally-managed brand, proud to be one of the only brands supporting the growth of sports, using innovation in sports shoe design and technology. They're definitely not small but we wanted to show them love anyway.
The Institute for Applied Alchemy works with interventions and a methodology that creates in the moment shifts and maximises impact for leaders and their teams. Their work is process driven and highly detailed.
This fully female-owned business can design any item that you dream of, while providing expert advice and recommendations on the interior decor of your special spaces. They do a range of wooden boards with engraving, as well as custom furniture and renovations.
Based in Pretoria, these stationery fiends use sustainable materials to create notebooks and custom books. They believe that a notebook is the perfect place to nurture your world-changing ideas.
In the beautiful Garden Route, lies the Lund Family Vineyards. It's the perfect destination for weddings, vineyard lunches, polo and luxury stays.
Based in Durban, this business specializes in wedding and milestone stationery. They love to create beautiful stationery and design that reflects your life and love stories.
Hanga Shopping is a new way to buy and sell clothing. Using their platform, you can shop smart and local.
Currently selling fabulous winter clothing, According2Kaz caters for stylish fashionistas. This online shop is owned by Kemoo Hlatshwayo – a fashion director, stylist and editor.
Specialising in administration of estates, Kumaran Pillay is a practising attorney driven by passion for legal jurisprudence. He is also a multi-talented information manager with experience in data collection and correlation.
Kayleigh is a Hilcrest-based qualified makeup artist who proudly uses cruelty free products. You can DM her on Instagram for bookings.
This team of web developers specializes in building bespoke designs on WordPress and never use template-based themes to replicate design briefs.
Look out for more updates to our list.
Aaliyah